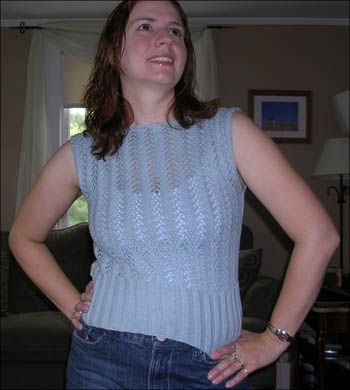 She's seamed. She's blocked. She's on my body.
She's Orangina!
...or as I said before, Aquafina.
Pattern:
Orangina
by Glampyre
Yarn:
Rowan 4-ply Cotton in Tear. Barely 4 balls.
Needles:
Size 3, 24" circular Addi Turbos.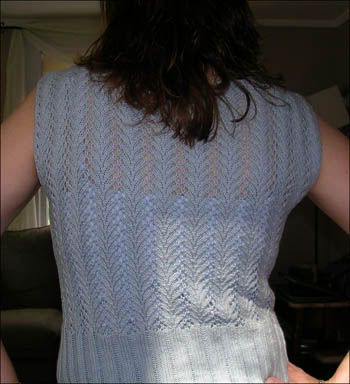 I was duped into starting this project by
Chrissy
as part of the
Sexy Knitters Club
knit-a-long. It was easy enough for her to do since I already had 4 balls of the specified yarn sitting in my stash. I had some real trouble getting gauge for this project - I couldn't get stitch gauge until I moved up a few needle sizes, and that scared me. Chrissy assured me that the lace would stretch (especially since it was cotton), so I moved back down and knit on the specified size 3's. I am
so glad
I did so, because the end results are
perfect.
The lace pattern repeats over four rows and is very easy to memorize. I was so amazed at what I was creating - it was just so beautiful: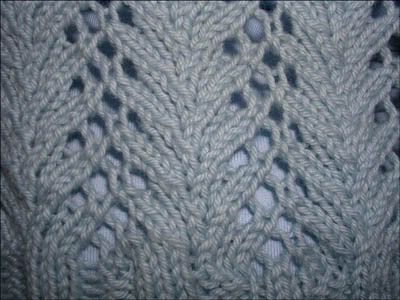 ...beautiful, but very see-through. Luckily I found a tank top at New York & Co. that matched well (as you can see).
The back and front are worked separately and then joined in the round for the five inches of 3 by 3 ribbing at the bottom. I
almost
complete the whole thing in three balls. I had to bust into the fourth ball with only about 6 rounds of ribbing left and I used maybe a yard for seaming. I was so nervous in the beginning that I had Chrissy pick me up a fifth ball, just in case I'd need it. Now I have almost two full balls left over. Oh well, I'm sure I'll find something small that I'll want to knit out of cotton.
Anyway, I was a bit weary about how this would look on me, but I absolutely
love
it and I'm sure I'll be in it all summer long. And the best part of all? The tank top has a shelf bra built in it. Now, anyone that knows me knows that the term "shelf bra" makes me shiver. I can't do them. That is, I
couldn't
until now. I've lost enough weight and inches around that I can pull this one off successfully. It looks right! It feels great! Oh joy of joys!!!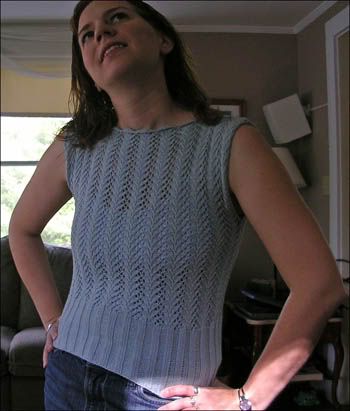 I am one happy camper.