man, I skink
I am a terrible, terrible knit blogger. I admit it. I've cast on new things. I've probably finished a thing or two. Have I mentioned it here? Nope.
I'm 3 inches away from finishing Orangina. Three. Lonely. Inches. I can't wait. Then I'll seam the sides, join the shoulders and be done. I'd like to wear it to Chrissy's graduation party the first weekend in June. I think I'll be successful.
I've also started my first pair of Jaywalkers using the Lorna's Laces yarn I bought at Purl SoHo. That stuff is like butter. *swoon* It's also my first time doing an Afterthought Heel. So far, so good. I'll knit another two inches or two, pause and put in the heel. That way I can measure properly to get the best fit for my foot.
I went to Florida last week and it was nothing short of wonderful. Cecily came with me and she posed for photos on the lanai at Eric's parent's house. Actually, she posed on the waterfall that flows into the pool that is located on the lanai - dangerous territory for a knitted robot, but exciting nevertheless: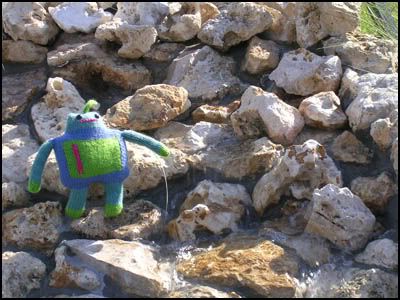 She's so cute.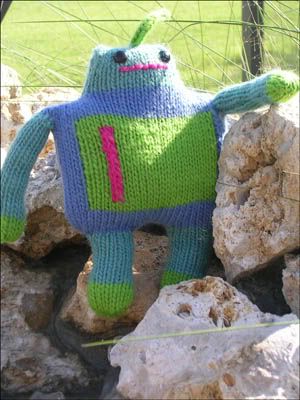 I predict that this particular knitted toy is going to find herself in many interesting places coming up...